About ChemCatBio
We accelerate the development of catalytic technologies for converting biomass and waste resources into fuels and chemicals with a lower carbon footprint.
From sustainable aviation fuel to bio-based marine fuel to renewable monomers for material manufacturing, the Chemical Catalysis for Bioenergy Consortium (ChemCatBio) reduces the cost and time to move your catalyst-driven technology from discovery to scale-up.
Access the expertise of eight U.S. Department of Energy (DOE) national labs and a portfolio of world-class resources and capabilities to overcome technical risks for developing catalysts and processes.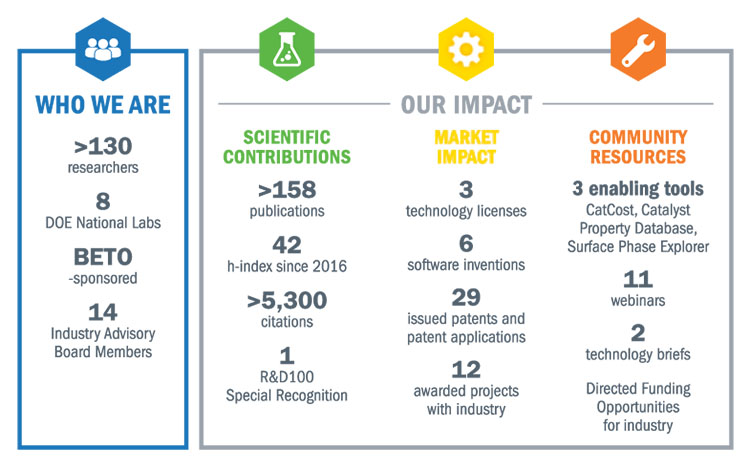 Our Research Portfolio
With an integrated and collaborative research and development portfolio of catalytic technologies and enabling capabilities, ChemCatBio addresses both technology-specific and overarching catalysis challenges over the entire development cycle.
Catalytic Technologies
ChemCatBio targets technological advancements for specific conversion processes:
Catalytic upgrading of biochemical process intermediates
Upgrading of C1 building blocks
Upgrading of C2 intermediates
Catalytic fast pyrolysis
Electrocatalytic CO2 utilization.
Browse catalytic technologies.
Enabling Capabilities
ChemCatBio empowers researchers and industrial partners with access to world-class capabilities and expertise in computational modeling, materials synthesis, advanced in situ and in operando catalyst characterization, and catalyst design tools.
Browse enabling capabilities and tools.
Our Expertise and Leadership
ChemCatBio is funded by DOE's Bioenergy Technologies Office and consists of technical capabilities experts, technology transfer/agreement experts, and data experts from eight DOE national laboratories with demonstrated experience in developing advanced catalytic materials.
ChemCatBio is part of the DOE Energy Materials Network (EMN) of technology-focused consortia and is led by the National Renewable Energy Laboratory. A steering committee—made up of technical capability experts from the participating laboratories and DOE representatives—guides ChemCatBio's research direction and approach, coordinates streamlined industry access, and identifies and incorporates unique national lab capabilities.
About the Energy Materials Network
Accelerating advanced materials development, from discovery through deployment, has the potential to revolutionize whole industries and is critical for the United States to compete globally in manufacturing in the 21st century. However, today only a small fraction of materials innovations make it to widespread commercialization. The goal of EMN is to dramatically decrease the time-to-market for advanced materials that are critical to manufacturing many clean energy technologies, enabling manufacturers of all sizes to develop and deliver innovative, made-in-America products to the world market.
Through targeted, national lab-led consortia, EMN leverages more than $40 million in federal funding in 2016 to facilitate industry's access to the unique scientific and technical resources at DOE's national labs in high-performance computing, synthesis and characterization of new materials, and high-impact experimentation. Each EMN consortium brings together national labs, industry, and academia to focus on specific classes of materials aligned with industry's most pressing challenges related to materials for clean energy technologies. Together, the EMN consortia will form a network of advanced materials R&D capabilities and resources that will support the Administration's commitment to revitalizing American manufacturing and maintaining a competitive edge in the clean energy economy.