ChemCatBio To Accelerate Bioenergy Catalyst Research With New Funding and Three Industry Partners
U.S. Department of Energy-Funded Consortium Builds on Successes in Developing Catalysts From Discovery to Scale-Up
Nov. 28, 2022
Replacing society's petroleum-based chemicals, fuels, and materials with low-carbon, bio-based alternatives is about as difficult as it sounds. But what if the key to decarbonizing the economy already exists, locked away in biomass and agriculture, forestry, and industry waste streams?
According to a recent U.S. Department of Energy (DOE) analysis of potential biomass supply, it does. The United States can sustainably harness an estimated 1 billion tons of biomass and waste resources each year by 2030—enough to fuel all domestic and international air travel.
But before we can power airplanes with these renewable resources, scientists must alter them on a molecular level using catalytic approaches. That is where the Chemical Catalysis for Bioenergy Consortium (ChemCatBio) comes in.
Using Catalysts To Decarbonize the Economy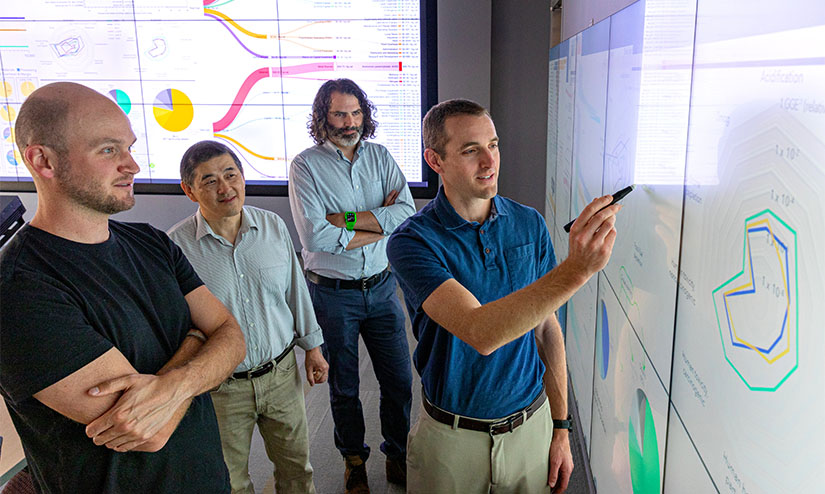 After two rounds of funding and six years of catalysis research, DOE's Bioenergy Technologies Office (BETO) awarded ChemCatBio nearly $30 million for three more years of funding starting in 2023. The consortium is collaborating with three industry partners—IBM, Micromeritics, and Johnson Matthey—to accelerate the development of key enabling capabilities.
"We're advancing biofuels and bioenergy to pursue rapid decarbonization of our economy," said Dan Ruddy, deputy director of ChemCatBio. "Biofuels and biomass conversion technologies have been slow to be commercialized because there are some unique challenges in working with biomass feeds compared to things like petroleum or natural gas."
What's ahead for ChemCatBio?
Deputy Director Dan Ruddy addressed that question and others in a Dec. 14 webinar.
ChemCatBio was launched in 2016 with BETO to accelerate the development of catalytic technologies for converting biomass and waste resources into energy-dense fuels and renewable chemicals. The consortium brings together over 140 researchers at eight national labs with demonstrated expertise in developing advanced catalytic materials.
ChemCatBio is part of DOE's Energy Materials Network of consortia focused on research and development to advance clean energy technologies. It leverages unique lab capabilities to support BETO's Sustainable Aviation Fuel (SAF) Grand Challenge, a governmentwide effort to meet 100% of aviation fuel demand by 2050 with SAF that emits at least 50% less life cycle greenhouse gas emissions than conventional fuel.
Meet ChemCatBio's Accelerator Partners
With this next round of funding comes new industry partnerships to help accelerate the catalyst and process development cycle for bioenergy technologies.
"We're making the shift from focusing on yield improvements to focusing on process integration, engineered catalysts, and fuel production," explained Ruddy. "We're bridging the gap between fundamental research and industrial research."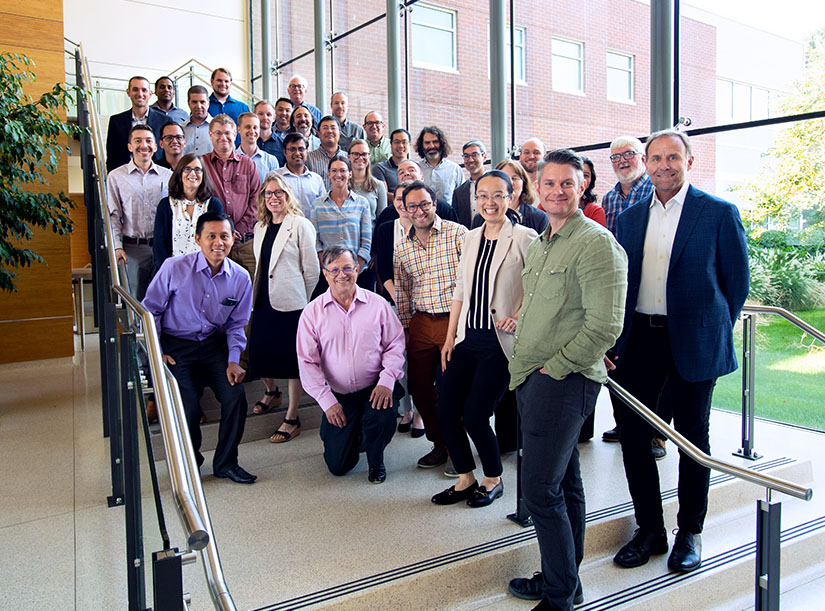 Since its establishment, ChemCatBio has developed a variety of cutting-edge enabling capabilities and tools, such as world-class instrumentation and expertise in computational modeling, materials synthesis, advanced in situ and in operando catalyst characterization, and catalyst design tools. With its new partnership model, the consortium aims to drive even deeper advances in three areas:
Coupling computational modeling and artificial intelligence to enable rapid discovery and development of catalysts.
Characterizing complex catalytic materials under reaction conditions.
Scaling and benchmarking catalysts, as well as developing deactivation mitigation strategies.
IBM
IBM brings expertise in artificial intelligence and supports ChemCatBio's goal to database and understand computational literature, important for forming data-driven hypotheses that enable efficient and rapid discovery and development of catalysts for bioenergy applications. "How do we understand and use existing data more effectively?" asked Ruddy. "There's a lot of it out there. But how do you find it? How do you correlate it? How do you actually use it the best way you can and in new ways? IBM's going to help us do that."
Micromeritics
Micromeritics is the world's premier supplier of high-performance systems to characterize the particles and catalysts required to decarbonize the economy. Its systems are used in more than 12,000 laboratories of the world's most innovative companies, universities, and government institutions.
As a leader in catalyst characterization and lab-scale testing, Micromeritics will support ChemCatBio in its synthesis and characterization project. "We're developing some new techniques together that will keep us on the cutting edge of instrumentation," said Ruddy.
"It is an honor and exciting challenge to collaborate with ChemCatBio researchers as an Accelerator Partner," said Micromeritics Vice President of Science Jeff Kenvin. "Characterization of novel and advanced catalytic materials used for decarbonization technologies is a unique opportunity and, combined with the opportunity to work with global leaders in this area, is a natural fit for Micromeritics."
Johnson Matthey
Johnson Matthey is a commercial-level catalyst provider with expertise in process development and engineering. "Johnson Matthey will help us set baselines for commercial catalysts and understand catalyst deactivation and regeneration," said Ruddy.
"Johnson Matthey is a global leader in sustainable technologies," said company Chief Technology Officer Maurits van Tol. "Our mission to catalyze the net zero transition is well aligned with the strategic purpose of ChemCatBio, and we are honored to be an Accelerator Partner. Through the ChemCatBio collaboration, we collectively can make a real difference to the world around us."
ChemCatBio Bridges the Gap Between Foundational Science and Applied Engineering
Since its inception, ChemCatBio has focused on combining the conversion technology efforts of its individual labs to fill in the gaps of existing catalysis research. The resulting crosscutting projects have made improvements in catalyst yield, performance, and carbon efficiency while greatly accelerating the development of new catalysts.
ChemCatBio's core projects target technological advancements for specific conversion processes, such as catalytic upgrading of biochemical process intermediates, catalytic fast pyrolysis, upgrading of biochemical process intermediates, and carbon dioxide utilization.
Along the way, ChemCatBio has created free and publicly available tools and resources to enable the catalysis and bioenergy communities to advance their technologies.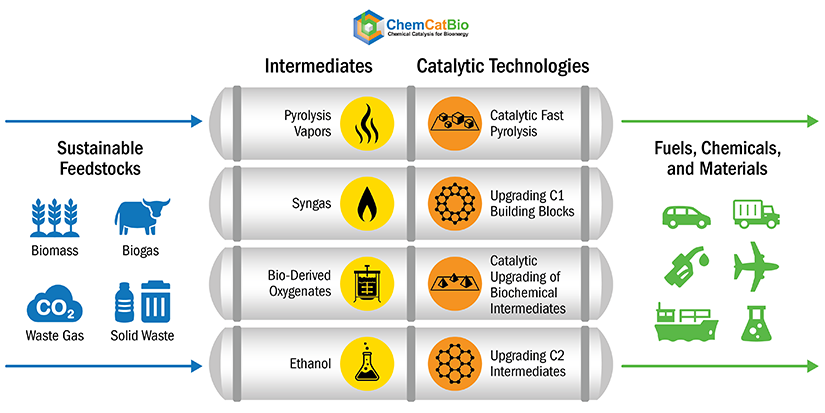 Among these resources are the Catalyst Property Database, a virtual library designed to make catalyst data easier to find and utilize, and CatCost™, a cost estimation tool for pre-commercial catalysts. Interactive ChemCatBio Technology Briefs distill key insights and research needs on challenges in catalysis and catalytic technologies, helping industry and researchers understand risks of new technologies, parse core data, and recognize additional research needs.
Subscribe to ChemCatBio's newsletter, The Accelerator, to learn about upcoming events, funding opportunities and solicitations, publications, new technologies and research projects, research teams, and more.