Catalytic Pyrolysis and Research Needed To Accelerate Its Commercialization
ChemCatBio 2023 Technology Brief
This work underscores the role of catalytic pyrolysis in the circular carbon economy and charts a path toward its commercial-scale application by identifying key short- and long-term technological barriers.
Catalytic pyrolysis to convert biomass and waste plastic into low-carbon-intensity fuels and chemicals has attracted significant academic and commercial attention. However, technological barriers must be addressed before it can become fully commercialized. As these barriers are overcome, the catalytic pyrolysis technology platform will transition from small-scale units to integrated commercial processes within refineries and chemical facilities. Here, we map out remaining challenges for each stage of the catalytic pyrolysis technology's development.
Roadmap of Catalytic Pyrolysis From Current State to Commercial-Scale Applications
Related ChemCatBio Capabilities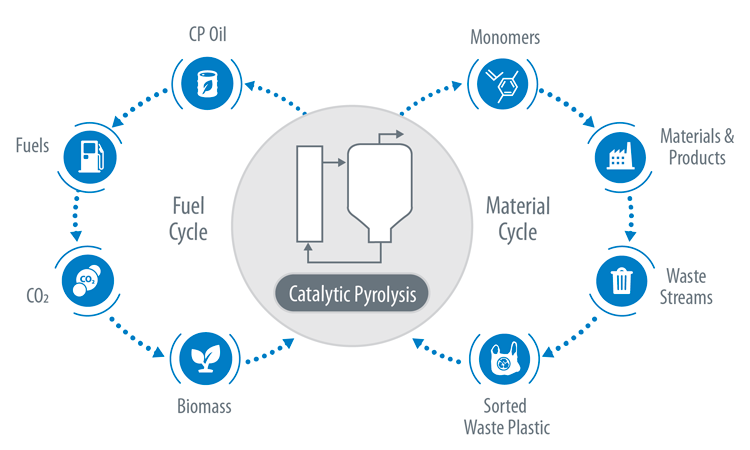 Nature Catalysis, 2023
"Catalytic pyrolysis is a robust, scalable, emerging technology platform with the versatility to decarbonize the production of fuels and plastics using biomass and waste plastic as feedstocks."
Key Findings
Catalytic Pyrolysis Has Attracted Significant Attention
Since 1988, biomass and plastic catalytic pyrolysis have appeared in over 20,000 journal articles and patents, with the annual publication rate steadily increasing. These trends underscore how seriously researchers and industries are considering catalytic pyrolysis as a commercial technology for producing low-carbon-intensity fuels and chemicals.
Development of Catalytic Pyrolysis Units Has Accelerated in Recent Years
In recent years, a variety of companies have constructed pilot-, demonstration-, and commercial-scale catalytic pyrolysis facilities. As the technology has matured, larger units have been built, and facilities have expanded their choice of feedstocks to include waste plastics.
The Magnitude of Catalytic Pyrolysis Production Can Be Relevant to the Demand for Fuels and Chemicals by 2040
The output of existing circular carbon technologies is projected to fall well short of the global fuel and plastic demand in 2040. While deploying the catalytic technology platform will be constrained by a variety of factors, it still has the potential to make a significant contribution to filling the demand for circular fuels and plastics.
Related ChemCatBio Capabilities